Our Contact Info:

Eastside Astronomical Society
---
When the Sun Goes Dark

The next meeting will be at 7:00 p.m. Tuesday, June 27 at Newport Way Library, 14250 SE Newport Way, Bellevue 98006.

EAS President Tom Gwilym will talk about what we need to know for the Monday, August 21, 2017 Total Solar Eclipse. We say total though it's a 93% totality. Tom will present the basics on solar eclipses, how they work and the details for seeing this one safely. He has done the research on getting to the eclipse path since the word is that a truly heavy traffic jamb can last for days! If you are still considering more than one site on the eclipse path, he will be able to help with that, too. We EAS members enjoyed an expedition to Goldendale WA for the total solar eclipse on Feb. 26, 1979.

The book drawing will be for - "Advanced Skywatching", by Robert Burnham, Alan Dyer, Robert Garfinkle, Martin George, Jeff Kanipe and David Levy. There'll be refreshments.





| Directions Newport Way Library |



We take July and August off, so the next meeting will be some time in September. We'll try for mid-month at Lake Hills Library.


Jim Moffit, if you see this please email us. We didn't get your contact info!

---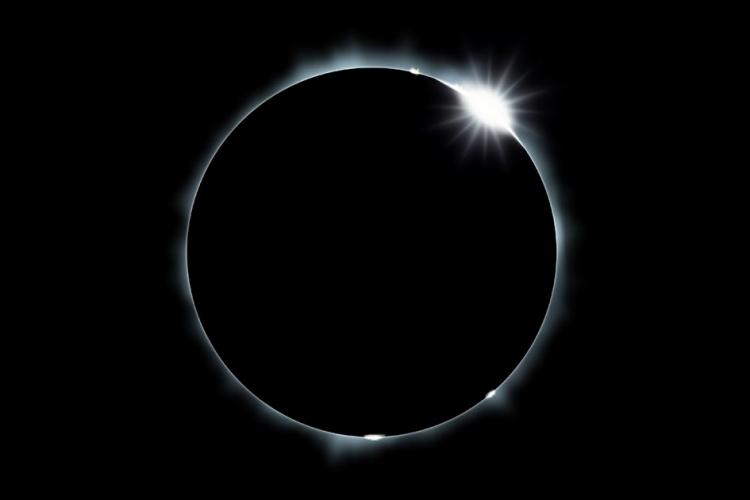 August 21, 2017 Eclipse
Time to reserve your spot!

Probably not news to most of you, but it's time to start planning for the 2017 Solar Eclipse which is just one year away! The last time we had a solar eclipse in this area was way back in 1979. Many of use to remember it (personally, I remember the clouds getting very dark as I watched it on TV!). Foruntately, for us in the famously cloudy Northwest, this will happen in late August which is usually one of our dryest/clearest months.
The closest place to see totality, will be in an approximate east/west line acorss mid Oregon rougly across Salem. Checking hotels, everying in Salem is filled up already, but I managed to find one room on Woodburn, OR that we put our name on.
The eclipse will happen around 10:15am on August 21st and last nearly 2 minutes (if you are at the centerline). See the web page below for lots of information on this event.
More info to come in the next months, and most likely a lecture at one of our EAS club meetings.



| August 21st, 2017 Eclipse |
---
Seattle Astronomy Blog:
Greg Scheiderer writes a very informative blog site about local Astronomy events and happenings in the Seattle area. He is also an EAS member. He can almost always be found at the Museum of Flight events and lectures taking notes and asking questions. So be sure to add his blog to your Astronomy reading list. Like most blog sites, you can even set up an RSS feed to keep up on the latest entries.

He also has started a calender on the site, and he'll have a lot of good info about just about everything astronomy related on that. All local clubs, museums, and star parties.



| Seattle Astronomy |
| Astronomy Calender |
---
Don't forget our blog site! Remember, EAS does have a blog site with a lot of the latest space, astronomy, some aviation, and whatever else looks good to share. President Tom Gwilym writes the blog and usually has a new entry or two every week, depending on what is going on that looks interesting. The blog is very easy to update, so there is more new goodies to read there than on the main EAS site (this one you are looking at) so make sure to check that out now and then or you can even set up an RSS feed when something new is posted.


| Eastside Astro-Blog |